In the upcoming local elections on 5 May, the far-right, anti-Muslim party Britain First (BF) has focused its resources on just three seats in Salford, Rhondda and Greenwich, carefully selecting candidates in the hope of bettering its image and winning over the electorate.
However the party, which is led by the former British National Party (BNP) organiser Paul Golding and has a long history of racism and intimidation, is being represented by a typical trio of extremists and conspiracy theorists bent on sowing division in their target communities.
Below we rundown the political leanings of BF's candidates. For more information on the far right at the local elections, click here.
Carl Burgess: Rhondda Cynon Taff (Bryanna and Llanharan ward)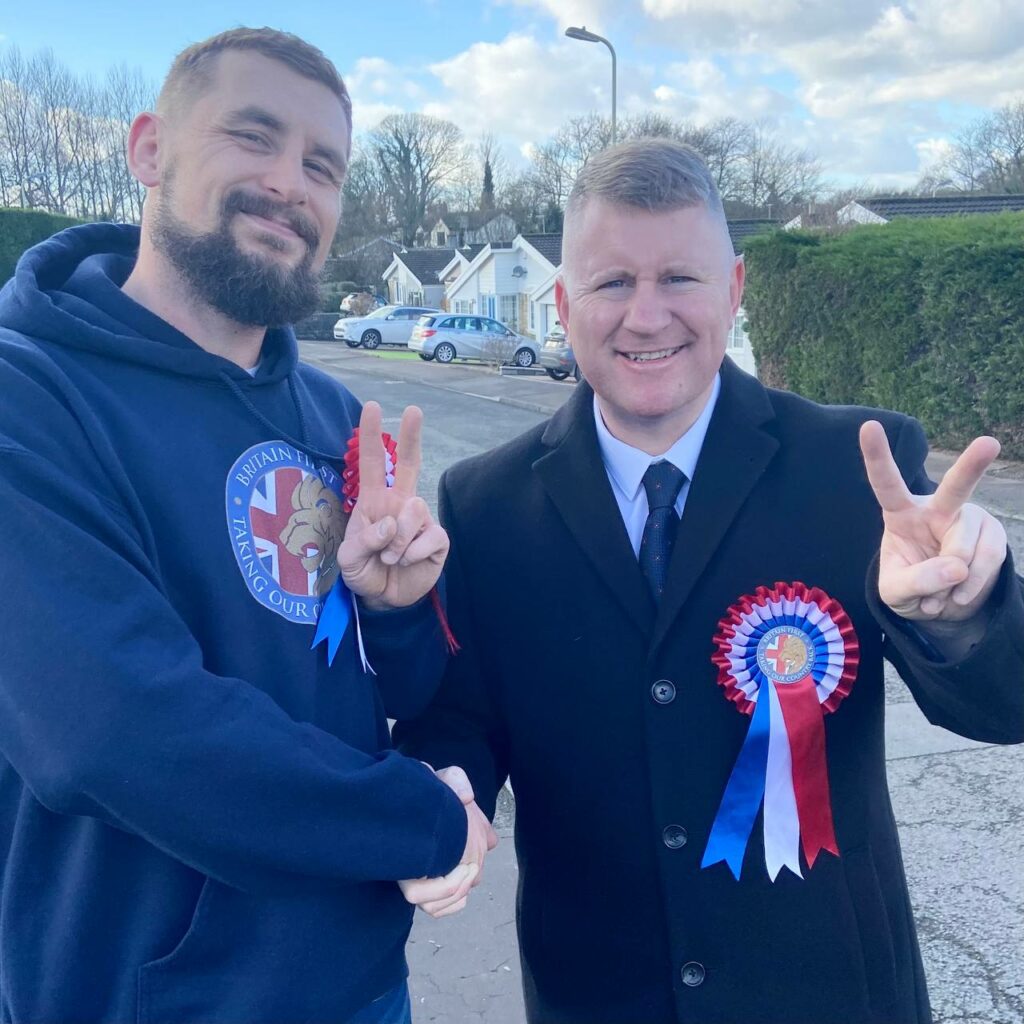 Carl Burgess, BF's Wales Regional Organiser, has repeatedly recommended the notorious, highly antisemitic Holocaust denial documentary Europa: The Last Battle on social media.

In April 2020, Burgess wrote on a far-right chat group on the messaging app Telegram: "Jews wanna take over the world I watched a documentary". He continued: "Did you see Europa the last battle? I don't hate jews really but they do seem extra quiet… a little too quiet."

Three weeks earlier, he had written in the same group: "I recommend you go to bitchute and watch Europa: the last battle. Shit is crazy, its scarily accurate to what the modern world is becoming right now. It's a 12 part series but honestly give it a go".

In May 2020, he took to the social media platform VK to again promote the video, which claims that both world wars were part of a Jewish plot and exculpates the Nazi regime. This time, Burgess wrote: "it's a real eye opener to what is happening today from books which were written 100 years ago. THIS IS WHATS HAPPENING IN OUR WORLD TODAY!!!"


In April 2020, Burgess also posted a clip from the film American History X in which a gang Nazi skinheads embark on an appalling racist rampage in a grocery store, brutally assaulting the staff. Alongside the video, Burgess wrote: "I'm no nazi but I'm sure a few of us can relate. I watched this yesterday for the first time in about 10 years. This is now happening here fucking crazy".

He continued: "Instead if blacks its muslims over here who are a major problem [… ] the time for talking is over it's not getting us anywhere. I really wouldnt want to go around hurting people its disgusting but what else could we do to send a message. We need to make suggestions that will really make a difference because protesting seems a waste of time to me".


Burgess has elsewhere reposted conspiratorial screeds outlining a supposed plot to usher in a "New World Order" via vaccines, 5G technology and "herds of immigrants" entering the UK, ultimately facilitating the "mass extermination of us, introduction of a one world government, introduction of nanochip injections and total financial control of YOU and a Marxist style ruling done by credit worthiness".
Ashlea Simon: Salford (Walkden North ward)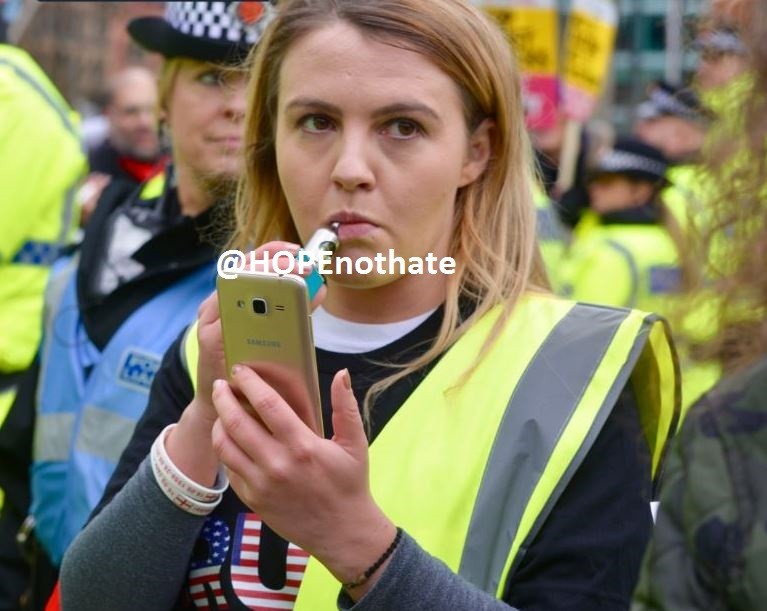 Ashlea Simon (AKA Ashlea Robyn), BF's Chief of Staff, is among the group's most visible and influential activists. Simon has led BF activists on various confrontational actions, such as harassing migrants and asylum seekers in hotels in which they have been temporarily housed, with BF leader Paul Golding, who is also her partner, in tow.


Simon first attracted notice on the political fringes in early 2019 due to her involvement in the UK far-right's attempt at a "Yellow Vests" style movement, which gained notoriety for harassing MPs and journalists around Parliament Square.


 Like her party, Simon has promoted racist conspiracy theories, for example writing in October 2019 that "the great replacement is real and deadly for the white brit", referring to the bunk far-right theory that white Europeans are being "replaced" by a sustained influx of immigrants.

Simon wrote the following year that "White people are being erased, defend your people and your homelands before you become a hated minority"; she has also claimed that "English people can't be black, English blood is white". She also led BF activists in holding a "White Lives Matter" banner outside Downing Street in 2020. 


As we will outline in a subsequent blog, BF has links to the Russian far right and a history of support for Putin. Simon herself travelled to Russia with Golding for a "political visit" in 2019.
Nick Scanlon: Greenwich (Eltham Page ward)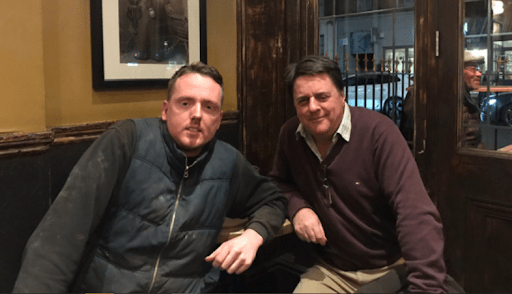 South London-based Nick Scanlon has cycled through a number of fascist groups over the past decade. In 2014, Scanlon stood as a candidate for the BNP in Greenwich (Middle Park and Sutcliffe ward), placing 11th of 12 candidates. Scanlon appears to have maintained his affection for the fascist group, writing in 2018 that the party had been the "real deal" and in February 2020 meeting the disgraced former leader and notorious Holocaust denier, Nick Griffin, for a beer.


Scanlon was also a core member of Generation Identity UK (GI UK), a now defunct far-right youth group active 2017-2019 which advocated for a form of racial segregation. Scanlon was more extreme than many of his GI contemporaries, for example repeatedly promoting propaganda from the neo-Nazi Mark Collett and expressing his desire for a "white ethnostate" during this time.


In May 2019, Scanlon attended the white nationalist American Renaissance conference in the hope of forging links between US racists and his own organisation, going on to rave about the event on social media. Scanlon has also attended events by the Traditional Britain Group, a racist pseudo-intellectual conference and key networking event for the UK far right.


After GI UK (by then rebranded as the "Identitarian Movement") folded in January 2020, Scanlon claimed on Telegram that that he had joined Patriotic Alternative (PA), a highly antisemitic fascist group headed by the neo-Nazi Mark Collett, joining the internal chat of the group's South East branch.


Scanlon has since joined Identity England (IE), a microscopic GI splinter group that launched in October 2020. Scanlon remains active in the racial separatist organisation, despite now being a BF candidate.


Scanlon is receiving help in his Greenwich campaign from Charlie Fox (AKA Charlie Roberts), a leading figure in IE, and Andy Frain, one of the UK's most notorious football hooligans and now an active BF member. Nicknamed "Nightmare", Frain is a former associate of the Nazi terror gang Combat 18, as well as the British branch of the Ku Klux Klan. Frain has had numerous stints behind bars for violent offences, including for slashing the throat of an off-duty police officer.